Cross-Posted from Front Line Defenders, June 28th, 2012
See Action Alert in Next Blog Post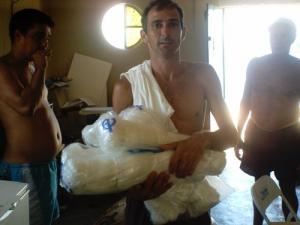 João Luiz Telles Penetra.  Photo courtesy Front Line Defenders
.
EJOLT partner Professor Marcelo Firpo has just send us a sad message:"I was with two fishermen on 19 June in a meeting at Peoples´Summit discussing the impacts of big projects (basically oil, mining and steel) in Rio de Janeiro State. Three days later they disappeared when went to work. They have just been found dead. The media is considering this case without importance and we will need more national and international pressure in order to protect other people and to investigate who have killed them."
.
On 24 and 25 June 2012 the bodies of human rights defenders Mr Almir Nogueira de Amorim and Mr João Luiz Telles Penetra were found following their disappearance on 23 June 2012.
Almir Nogueira de Amorim and João Luiz Telles Penetra, or "Pituca" as he was known, were both leaders of the Associação Homens do Mar – AHOMAR (Association of Sea Men) which was set up in 2009 to defend the rights of the fisher-folk working in Rio de Janeiro, and particularly those affected by the construction of a gas pipeline for Petrobras. Since the founding of the organisation its members have reported being subjected to death threats, physical attacks and killings. According to AHOMAR's members, the attacks are perpetrated by people linked to death squads, security guards hired by the companies in charge of building pipelines and militias operating in the region.