Note: The debate is heating up about genetically engineered (GE) trees [also called GM trees, GMO trees or transgenic trees].  In response, Global Justice Ecology Project's STOP GE Trees Campaign is mobilizing internationally to ensure that GE trees are never commercially released.  As the article below notes, China is the only country where GE trees [Bt insect-resistant poplar trees] were commercialized in 2001.  China serves as a cautionary tale, as no records were kept as to where the GE trees were released, though the Nanjing Institute reported in 2005 that GE poplar trees were already contaminating wild poplars.  The escape of this gene that allows trees to kill insects, with every cell of the tree containing the insecticide, is irreversible and its impacts are unknown.  How far the trait has now spread is also unknown.

–GJEP's STOP GE Trees Campaign Team
By Clive Cookson, cross-posted from the Financial Times
Transgenic trees could make better timber, but risk cross-pollinating native forests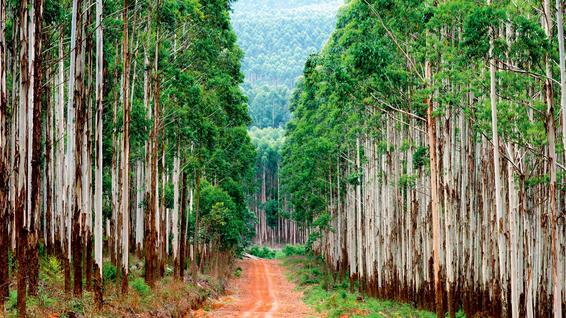 ©Alamy
Although genetically modified crops such as cereals and cotton continue to attract much scientific and political attention, there has been little debate about the large worldwide research effort to develop GM trees.
Trees with foreign genes added have grown in 700 field trials in at least 21 countries over the past 20 years, says Matthias Fladung of the Thünen Institute of Forest Genetics in Germany. They include dozens of deciduous and coniferous species, with most work done on eucalyptus and poplar.
GM poplar, engineered to make a natural insecticide (Bt toxin) in its leaves, is already grown on a commercial scale in China. "There is no independent assessment of transgenic poplar in China," says Rick Meilan, who works on poplar at Purdue University in the US. "The area planted may cover thousands of hectares."
Meanwhile, two biotechnology companies, FuturaGene and ArborGen, are leading the effort to commercialise GM eucalyptus in Brazil and the US.

Some of the reasons for forestry researchers wanting to grow GM trees are similar to those motivating agricultural scientists, such as pest resistance and survival in adverse conditions such as drought or cold.
Others are more particular to trees, such as altering the amount of lignin in their trunk and branches to make the wood easier to process for paper or biofuel – or simply to produce timber more quickly.
GM trees also pose environmental concerns similar to those of GM crops – and sometimes in heightened form. The European Union is assessing these risks in a wide-ranging research programme outlined at last week's Euroscience Open Forum conference in Dublin.
Because trees grow so tall, they disperse their pollen over a wider area than cereals. They live for decades, so any harmful effects will persist for far longer.
But the most important point is that trees in commercial plantations are genetically far closer to their wild forest relatives than farm crops, which have been altered extensively by centuries of breeding. Unless modification also makes the trees sterile, there is likely to be little barrier to hybridisation between GM and non-GM trees of the same species.
Supporters of the technology say that genetic modification is needed for trees, even more than for farm crops, to short-circuit the breeding process and generate traits that cannot be introduced conventionally. Fast-growing GM poplar and eucalyptus could provide timber or biofuels while removing carbon dioxide more effectively than conventional trees.
"Trees are 'wild' plants, at least in comparison with most crop cultivars," Fladung says. "Genetic engineering offers a fast way to domesticate them."