NOTE: With tens of thousands marching in New York and Oakland and cities throughout the U.S. to defend immigrant rights, protest the corporate capture of government, and bust the banksters for their criminal theft of livelihoods, yesterday, May 1, 2012, was without doubt one of the biggest shows of May Day street heat since the original workers' May Day was turned into the state-sponsored Labor Day a century ago.

One of the best news round-ups we've found is from the UK Guardian:
May Day Occupy protests – live coverage
Live coverage of Occupy and May Day protests in New York and other US cities, plus highlights from around the world
NAVIGATE THIS BLOG
TWEETS: Ryan Devereaux (@RDevro) in NYC
PHOTOS: protests from around the world
LIVE STREAMS: live videos from around the country
SUMMARY: the latest developments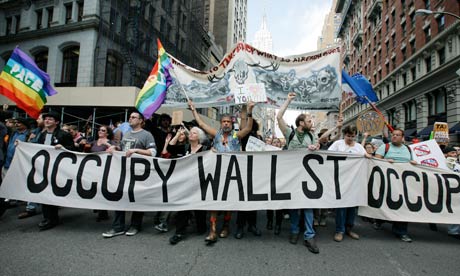 Occupy Wall Street protestors march down Fifth Avenue towards Union Square during a May Day rally in New York City. Photograph: Monika Graff/Getty Images
To see the full coverage, go to the Guardian.